10 COVID-19 Safety Tips for Park Users
Memorial Park's verdant greenspaces are a welcome refuge to Houstonians during the COVID-19 crisis. However, with the surge in public use that Memorial Park is currently experiencing, the Conservancy wants to remind all Park users that they have a role to play in ensuring the community's safety. Here are 10 safety practices to keep in mind on your next visit to the Park:
Follow CDC's guidance on personal hygiene prior to heading to the Park — wash hands, carry hand sanitizer, do not use trails if you have symptoms, cover your mouth and nose when coughing or sneezing, etc.
Always observe CDC's minimum recommended social distancing of at least six feet from other people. Enjoy activities like walking, running, and biking in a single-file alignment, with no more than two people side by side. Practice this distancing and know what it looks like.
Avoid coming into contact with surfaces that others may have used, such as benches.
Bring your own water bottle and refrain from using water fountains.
Note that trail and Park users may find public restrooms closed. While port-a-cans are available at various locations onsite (indicated on the map included here), be prepared before you leave and time outings so that you are not dependent on public restrooms.
DO NOT come to Houston parks in groups or participate in group sports. Only visit with other members of your household.
Bring a suitable trash bag. Leave no trash, take everything out with you. Do your part to reduce trash onsite.
Download and use the ParkHouston app on your mobile device to avoid having to touch parking meters.
To help mitigate crowding, visit during off-hours (peak hours are 8 AM – 8 PM), or take advantage of Memorial Park's acreage and explore less-traveled areas of the park.
If you arrive at Memorial Park and find the parking full, it is advisable to find another place to recreate, as the Park is likely crowded. Consider visiting other large parks in the region or walking in neighborhoods.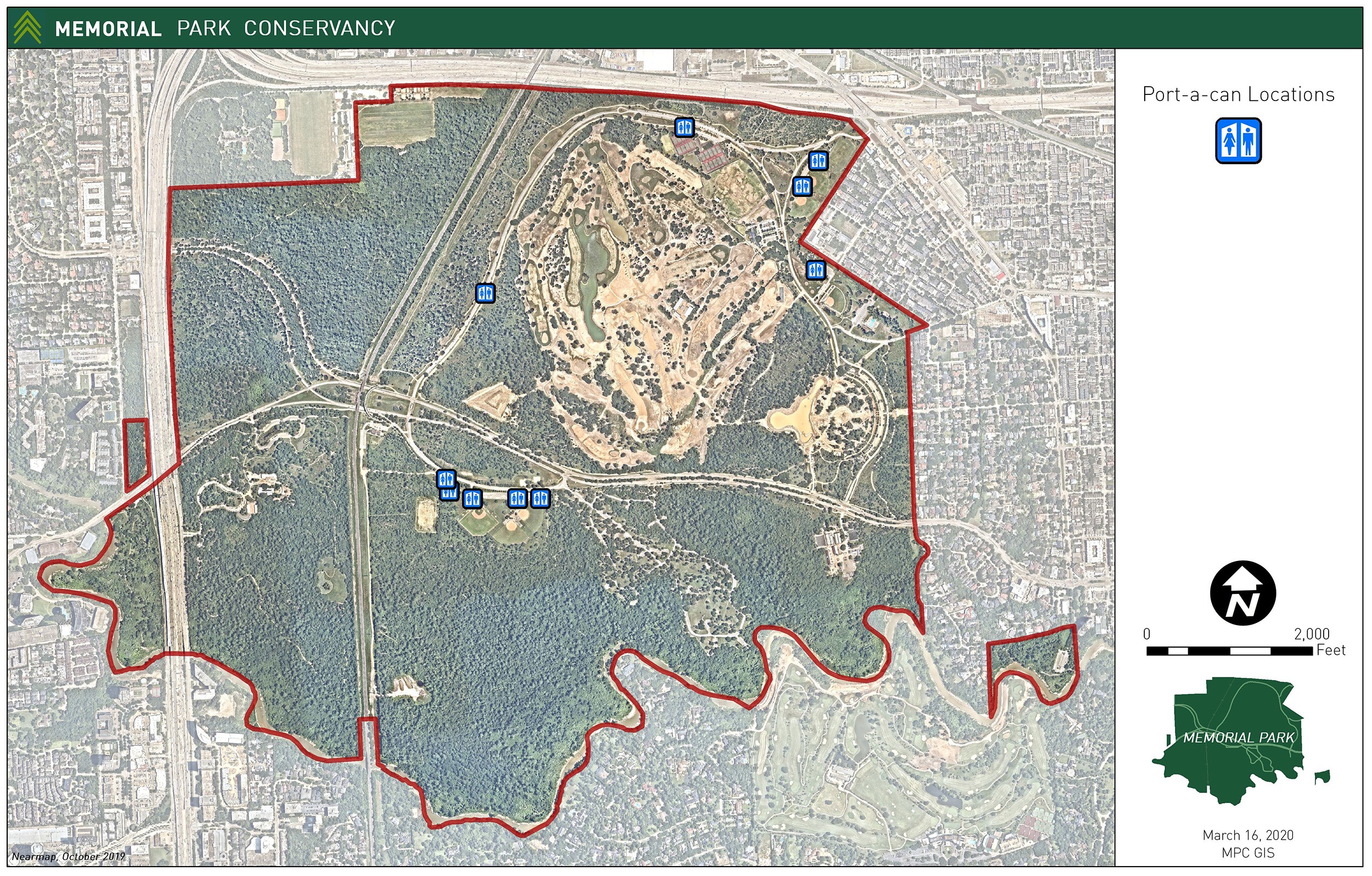 As an additional precaution related to the constantly evolving COVID-19 situation, Memorial Park has adopted the Center for Disease Control and Preventions (CDC) guidelines to prevent its spread. Memorial Park Conservancy has taken the following actions for the safety of Park users:
Postponed all Park programs, events and reservations
Postponed group recreation
Reduced staff to essential services only, such as trash management
Closed rest facilities managed by MPC (port-a-cans available)
Closed playground, fitness equipment, volleyball courts and stretching deck
Closed access to Houston BCycle stations located in the Park
Introduced signage throughout the Park that discourages groups and the use of amenities such as water fountains
Memorial Park's hours of operation are 5 a.m. to 11 p.m. daily. Picnic Loop is closed to motorized vehicles Monday through Thursday from 7 p.m. – 9 a.m.