The standing dead: 'Zombie Trees' line city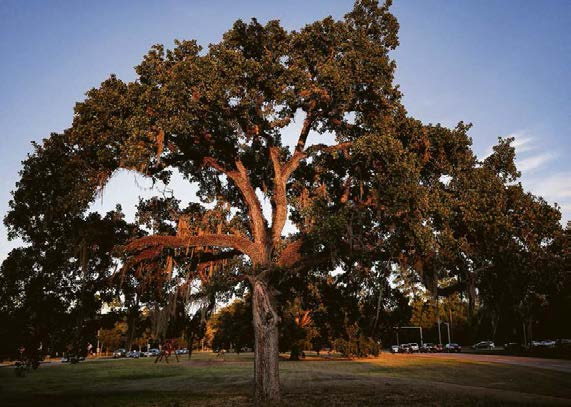 Houston Chronicle | By Molly Glentzer
After a year that saw dryheat, flooding and ice, landscape maybe stressed, arborists say
A leaf-peeper driving through Houston might think fall is around the corner, looking at the changing canopies of bald cypresses, maples, elms, certain oaks and sycamores across the landscape.A leaf-peeper driving through Houston might think fall is around the corner, looking at the changing canopies of bald cypresses, maples, elms, certain oaks and sycamores across the landscape.
That would be wishful thinking. Cooler fall temperatures that trigger leaf color don't typically arrive here until November or December.
Trees that are dropping leaves now are likely stressed and may need attention, experts say.
Matthew Petty, an arborist with Davey Tree Expert Co., said he has seen evidence of tree stress across the city since July. August's searing heat brought no relief. Some arborists have even coined a name for specimens that look alive but are in fact standing above already-dead root systems: zombie trees.
"People think their trees aredying for no reason, but roots are compromised," Petty said. "We've had odd weather patterns, with Harvey, hard freezes last winter and long, hot dry spells this summer. Trees that were already stressed, that pushed them over the edge."
City forester Victor Cordova, whose department oversees trees at more than 300 parks and many miles of right-of-way, said he has seen nothing out of the ordinary other than trees that look thirsty. He thinks they'll be fine, especially after recent rains.
But in the most forested area of the inner city, issues appear more evident.
Suzanne Longley,a professional landscaper who owns a tree farm near Brenham, saw them as she exercised along the Memorial Park loop early one morning last week. She sawscragglypost oaks, the yellowing leaves of sycamores,red needles on bald cypresses and crispy leaves on maples and cedar elms.
That doesn't mean all those trees are goners. Some species, including sycamores and cypress, drop their leaves to survive dry spells and recover with rain, Longley said.
Not what it seems
Post oaks, a treasured native species, are another story. They are finicky and hard to re-establish, said Carolyn White, the Memorial Park Conservancy's conservation director. She is working to revive Memorial Park's post oaks by aerating their root systems and injecting biological amendments created from the compost of fallen trees.
The severe drought of 2011 decimated about half the Park's trees. The conservancy began a reforestation project soon after that, and in 2013 it developed a master plan that includes reviving the Park's heritage ecosystems. City Council approved the plan in 2015.
But trees can take years to die, compromised in ways that aren't always obvious. "So we'll see a perfectly green tree topple right over," White said.
Weak trees also are more susceptible to damaging insects. White said the Park's cedar elms and winged elms have turned yellow in late summer for several years now; they are being attacked by "innocuous parasites." That's a minor problem, she said.
This summer's dry spell prompted the conservancy to step up its watering of youngish landscaping trees that have been planted in recent years, White said. "They're still suffering."
That's one of the reasons why "upland forest" pockets of the Park's newEastern Glades,which won't open until 2020, have been planted with seedlings that have to be watered for only about two years. Starting smaller means more resilient trees long-term, White said. Seedlings also cost less than larger specimens raised in plastic pots.
Memorial Park visitors once thought of the 1,500-acre green space only as a dense urban forest. But Whiteand others say they were not seeing a healthy environment. Decades of hands-off land management allowed native and non-native species to overpopulate into thickets, until storms and drought reset the landscape.
A visitor would be hardpressed to see it through all the concrete, but Houston sits at a complex intersection of piney woods, Gulf Coast prairie and post oak savanna. Bayous flow through it all, creating riparian corridors with robust forests — the places where wildlife likes to hang out, White said.
Hidden problem
Restoring a semblance of that eco-balance is a building block of the Memorial Park master plan. White wants to create "hands-off turf" in savanna areas as well as re-establish a proper forest floor. With the tree issues, she said, "You're looking at a jigsaw puzzle on top of a jigsawpuzzle to determine which areas need rehabilitation versus some watering."
Petty has observed another problem — root rot — around Houston in trees of all sizes. He suspects theywere oversaturated by Hurricane Harvey's prolonged rains or the Memorial Day or Tax Day deluges before that, although the fungal issues have not been limited to areas of the city that flooded badly.
Trees that receive proper and regular care by a certified arborist are healthier going into stress situations. That does not guarantee they will survive intense conditions, Petty said. "But the scariest tree is one that falls over because of unseen issues."